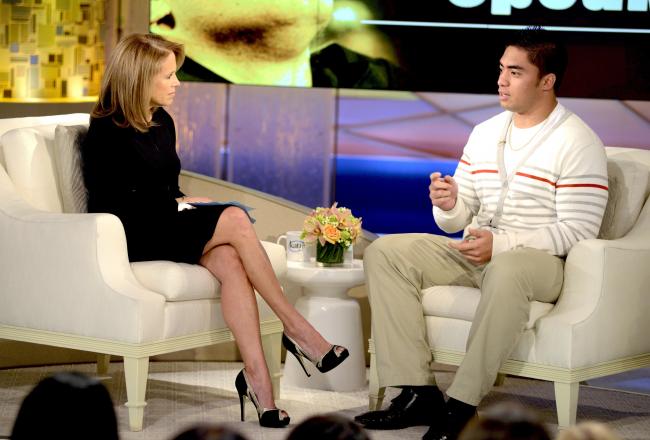 As George Orwell said before he died,
evasive answers are being as a substitute for the truth.
For tips on this, see WELS, LCMS, ELS, and the micro-minis.
Manti Te'o's Interview with Katie Couric: What We Can and Can't Believe | Bleacher Report
:
The biggest lie, which
Couric
let dangle before moving on, was
Te'o
's interaction with
Kekua
on her trip to Hawaii.
"I asked my dad if I could go sleep over one of my friend's houses and while I'm sleeping over we made plans. [I said] 'okay dad I'm going to try to make plans to meet up with her.' That night when I brought it up [to Lennay], 'oh, my brothers are using my car.'

"Since she's not from Hawaii I know she didn't have multiple cars. They had one car, a rental car. And she said, 'they have it, I'm over at the hotel and I can't go anywhere, can you come over here?'

"It's one of those things where it didn't happen."
You know...one of those things.
This is an unacceptable answer and
Couric
did a disservice to the viewers by allowing
Te'o
to change the topic back to lying to his father about seeing her, not the fact that
he doesn't have any viable answer for not seeing her at all.
If, at that point in the story,
Te'o
believed
Kekua
was alive, why didn't he drive to the hotel to see her? How long was she staying in Hawaii, and why did he make zero effort to see her over the course of her trip?
If her brothers were there and took the car, why didn't they offer to drop her off? Why didn't Te'o borrow his dad's car or ask the friend he was staying with to drive him?
Why didn't
Te'o
make plans to see her in the morning for breakfast? HOW WERE NONE OF THESE FOLLOW-UP QUESTIONS ASKED!?!?
'via Blog this'
***
GJ -
Political language... is designed to make lies sound truthful and murder respectable, and to give an appearance of solidity to pure wind.
George Orwell