Why Cardinal Turkson of Ghana won't be the next pope | Andrew Brown | Comment is free | guardian.co.uk
: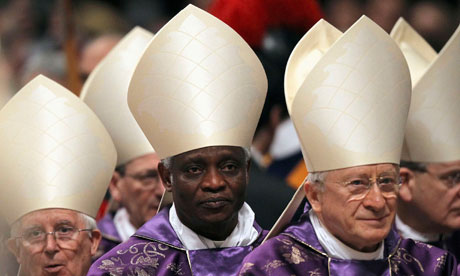 It is the "council of the media" which has politics and pressure groups, and the "council of the media" which "created many calamities, so many problems, so much misery, in reality: seminaries closed, convents closed, liturgy trivialised". I'm not a huge fan of my own trade. I know we're often horrible and amoral. But, really, what did for the Catholic church in the west was not the media, it was a combination of the triumph of consumerism and a Catholic church steeped in its own pride and self-absorption.
Before that passage came an anecdote which, with the laughter, reveals that the Vatican has no idea how the outside world sees it. This is from Vatican Radio's transcript. Benedict is talking about a cardinal he had advised as a young theologian in 1961:
"Shortly after – he continued – Pope John invited [Cardinal Frings] to Rome and he was afraid he had perhaps said maybe something incorrect, false and that he had been asked to come for a reprimand, perhaps even to deprive him of his red hat … [priests laughing] Yes … when his secretary dressed him for the audience, he said: 'Perhaps now I will be wearing this stuff for the last time' … [the priests laugh]. Then he went in. Pope John came towards him and hugged him, saying, 'Thank you, Your Eminence, you said things I have wanted to say, but I had not found the words to say' … [the priests laugh, applaud]."
This is funny only because the pope can sack anyone he feels like in the church. So naturally, he doesn't hear very much that he does not want to hear. It seems to me that the profoundest task before the conclave is to find a pope who does not believe his own propaganda. I don't mean one who isn't a Roman Catholic – I mean one who does not see the world from behind the fortifications of the Vatican but who is at the same time a strong and experienced enough administrator to reform its dysfunctional bureaucracy. No, I don't know who that might be.
'via Blog this'
***
GJ - There will be another push for a Third World cardinal, but the last effort in that direction ended with a German.
---
http://www.guardian.co.uk/world/2013/feb/13/catholic-church-pope-ghanaian-cardinal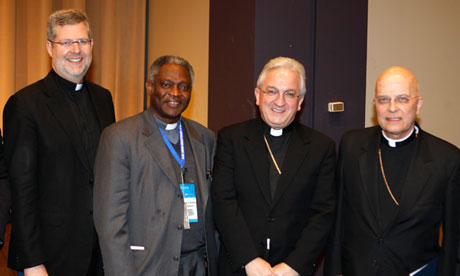 One of the developing world's leading candidates for the pope's successor has declared the Catholic church ready to have its first non-European Pope -
and said that he will gladly take on the role "if it's the will of God".
[GJ - That is not how popes get elected.]
Ghanaian cardinal Peter Turkson, president of the
Vatican
's pontifical council for justice and peace, said he believed the the churches of Africa and Asia had grown in strength to the extent they had produced "mature clergymen and prelates that are capable of exercising leadership also of this world institution."
"I think in a way the church is always and has forever been ready for a non-European pope," the 64-year-old, a favourite of Benedict XVI, told the Associated Press on Tuesday. He did not think the prospect was "too far away", he added.
Asked about speculation that he could himself emerge from next month's conclave as Benedict's successor, he said: "I've always answered 'if it's the will of God.'"
However, although Turkson is an early favourite of the bookmakers in a very open field of candidates, there are question marks over his credentials, which some Vatican observers say could hold him back. He was forced to apologise last year after screening a YouTube video at a meeting of bishops which made alarmist predictions about the rise of Islam in Europe. It claimed, among other things, that France would be an Islamic republic within 39 years.