Our first Cattle Dog, Sacky, looked just like this,
but she never wore a sissy rainhat.
VirtueOnline - News - Exclusives - The Episcopal Church's Civil War on its Orthodox Members
:
The Episcopal Church's Civil War on its Orthodox Members
COMMENTARY
By David W. Virtue
www.virtueonline.org
February 6, 2013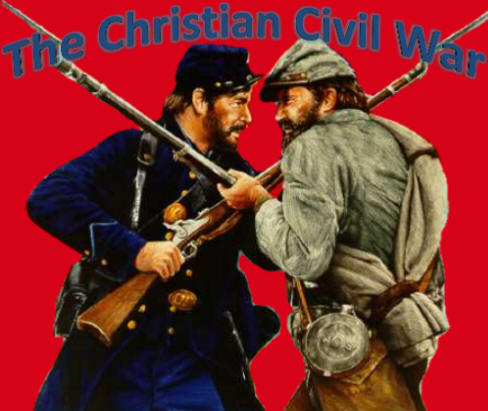 To even the most impartial Episcopal observer and/or those suffering from peripheral blindness, the Episcopal Church's war on its orthodox members has reached new depths, unimaginable a few short years ago.
Politeness, civility, talk of via media or "why can't we all just get along" have vanished out the stain-glassed window; there is now no more pretense. Episcopal Church leaders like Presiding Bishop Katharine Jefferts Schori have lined up their ecclesiastical bazookas and aimed them squarely at bishops like Jack Iker, Keith Ackerman, Bob Duncan and, more recently, Mark Lawrence with killer intent. There is now no mercy, no more attempt even to take prisoners, or be nice (a phony Episcopal doctrine now ended), or an offer of an ecclesiastical handshake to "go in peace to love and serve the Lord."
A VOL reporter who came up against the revisionist mentality of the Episcopal Church while researching a book on The Episcopal Church, was told to "f**k off" by David Booth Beers, Jefferts Schori's personal attorney when she inquired into TEC's legal spending. Her eyes were opened never to close again.
It is now open warfare in The Episcopal Church with some of the harshest language ever uttered from the lips of an ecclesiastical leader. Not even the venal and hateful John Shelby Spong, former Bishop of Newark, who tried his best to reinvent Christianity in his own mind, degenerated to the depths of the recent rip by PB Jefferts Schori. As history now shows, it is Duncan's star that is in the ascendency while Spong's has faded. In time, his will die out completely.
Witness what PB Jefferts Schori said when she came to Charleston recently to inaugurate a new remnant Episcopal diocese. In her speech, she accused Bishop Lawrence (but did not mention him by name) of being a petty dictator and a wolf masquerading among the sheep.
"I tell you that story because it's indicative of attitudes we've seen here and in many other places. Somebody decides he knows the law, and oversteps whatever authority he may have to dictate the fate of others who may in fact be obeying the law, and often a law for which this local tyrant is not the judge. It's not too far from that kind of attitude to citizens' militias deciding to patrol their towns or the Mexican border for unwelcome visitors. It's not terribly far from the state of mind evidenced in school shootings, or in those who want to arm school children, or the terrorism that takes oil workers hostage."
Think about that. She is saying that the godly Bishop of South Carolina Mark Lawrence is a "local tyrant" and his state of mind is like the "school shooter", Adam Lanza who walked into an elementary school and slaughtered some 23 children in Connecticut.
REALLY!
Canon Phil Ashey of the American Anglican Council called on the Presiding Bishop to apologize to the leadership of the official Diocese of South Carolina and retract her remarks.
She has not, of course, and apparently will not. Ashey cited Jesus' statement that it is out of the overflow of the heart of men (and women) that we truly speak (Mt. 12:34). He concluded his remarks by saying that her tremendous anger towards orthodox Episcopalians allows no room for them to practice their faith in the Episcopal Church. He is absolutely right.
Ironically the first half of that verse is even more damning. Jesus said, "You brood of vipers, how can you who are evil say anything good? For out of the overflow of the heart..."
Quite simply the words we speak and what we do are controlled by our thoughts and the passions of our flesh. These are the fruits of our minds. Thus, a person who does evil bears evil fruits; a person who does good bears good fruit in words, deeds and behavior. The point Jesus was making is that it is not possible for an evil person to bear good fruit and vice versa.
Jesus himself would call Mrs. Jefferts Schori the evil one and not Mark Lawrence. And what is the fruit of her labors? Is it a Church thriving and growing? Is it a Church at peace with the vast majority of the Global South who uphold the faith and order of the Church? Is it a Church proclaiming the gospel of God's salvation to all who will hear and repent?
Indeed not. In fact what is happening is the reverse. The Episcopal Church now has fewer than 700,000 practicing Episcopalians on any given Sunday, a figure that is steadily dropping. Its message is to save the world for God by doing good works (Millennium Development Goals and the Five Marks of Mission), but nothing remotely salvific. The vast majority of its parishioners are nearly 65; its parishes have fewer than 65 members. Its coffers are fast drying up causing apoplexy to House of Deputies President Gay Jennings who is trying desperately to rescue the institution by restructuring the church in the hopes that it can grow again. Its seminaries are contracting. Worst of all, liberal and progressive bishops are now saying they don't want any new ordinands unless they are financially self-sufficient because there aren't big enough parishes with budgets to support for them. "We need more laity," Washington Bishop Budde was heard to say recently.
In the "reap what you sow" department, we see the venality of certain bishops who are actually set on destroying their diocese in the hope that out of the ashes some new church will emerge. It won't, of course; those who say so only deceive themselves. Former Presiding Bishop Frank Griswold gave an "appreciation and thanksgiving sermon" dropping the usual "sacred space", "sacred place" and "giving thanks for the sacred presence" when he eulogized at a memorial service for the cathedral in Delaware that will now join many others that have closed in The Episcopal Church from Kalamazoo in Western Michigan to Providence, Rhode Island and surely, in time, the Washington National Cathedral. Most Episcopal cathedrals are on life support. Over the next 20 years, they will quietly close and be sold off to developers.
Stupider bishops like Western Michigan's Robert Gepert seem to actually delight in sabotaging their best operating parishes, alienating orthodox parishioners and forcing them out to form more perfect unions in other jurisdictions.
It is as though the leadership of The Episcopal Church is holed up in a bunker. When orthodox global south primates and the ACNA surround them, they send out a message blaming ordinary Episcopalians for not doing enough to save the denomination. Then, sensing failure, they drink the Kool Aid.
Not even in their worst public moments did liberal presiding bishops like Ed Browning or Frank Griswold say the things that Jefferts Schori has said of orthodox Episcopalians. Browning and Griswold hated "narrow-minded" "uninclusive" orthodox Episcopalians, but they had the good sense to keep it to themselves, or say it in private. Their public face, however hypocritical, looked with contempt or benign serenity on lowly orthodox believers, but they never uttered words the like of which Mrs. Jefferts Schori has done.
This past summer the noose tightened to the point of strangulation when a revised canon was passed at General Convention placing clergy at a far greater risk of facing ecclesiastical discipline than ever before under revisions made to Title IV Canons of The Episcopal Church.
Michael Rehill, former chancellor of The Diocese of Newark, NJ, says that as a result of recent revisions to Title IV (Canons IV.3 or IV.4.), many more Members of the Clergy are now facing ecclesiastical discipline. "Not a week passes without our receiving at least one call from a Priest who is suddenly facing Title IV issues or a Title IV proceeding. We frequently hear Priests saying, 'I never thought it could happen to me.' But it can happen to any Member of the Clergy, regardless of age, gender, experience or Diocese. You need to be prepared before it happens to you."
Is it any wonder that Rome created the Ordinariate for disaffected Anglo-Catholics and the Global South has put its imprimatur on the Anglican Church in North America for Evangelicals and evangelical catholics?
An ecclesiastical and legal noose has been tied around the necks of orthodox Episcopalians. A new cry might well go up, "Will no one rid us of this meddlesome Presiding Bishop?" It is time. Who will take up the gauntlet?
END
'via Blog this'