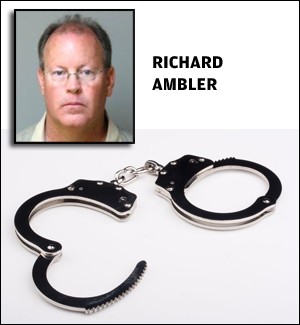 This LCMS teacher was file-sharing, like Joel Hochmuth at WELS headquarters.
My detective friend says the criminals will plea bargain by turning in their file-sharing pals.
Tennis coach and substitute teacher faces child porn charges
:
ST. LOUIS • A tennis coach at Lutheran North High School and occasional substitute teacher in the Parkway School District was indicted in federal court here Wednesday on a charge of possession of child pornography.
Richard Ambler, 49, of Florissant, was caught after pictures and videos containing child porn accessible via a peer-to-peer file sharing website attracted the attention of an investigator in Maryland, according to a court affidavit that accompanied a criminal complaint Monday.
After downloading porn from what later turned out to be Ambler's account on Feb. 14 and April 2, FBI agents traced his IP address and on April 25, searched his home and seized a computer, the affidavit says.
Ambler told agents that he thought he had more than 1,000 pictures and videos and had exchanged nude pictures with people claiming to be underage on Craigslist personal ads, the affidavit says.
Ambler was due in court Thursday for a hearing to determine whether he will be held in jail until trial, but the hearing was postponed to Friday.
Reached by phone, Ambler lawyer Vanessa Antoniou said that Ambler will plead not guilty, adding, "We'll have to look at the evidence."
Lutheran North could not be reached for comment Thursday afternoon, but a Dick Ambler is listed on the school's website as the boys tennis coach and Parkway District spokesman Paul Tandy said that the FBI told them Ambler coached at Lutheran.
Tandy said Ambler was removed from Parkway's substitute teacher list after the FBI contacted the district.
Ambler had worked off and on as a substitute in middle and high schools since the 2009-2010 school year and passed a full background check before he began working, tandy said.
He said that there had been no complaints to the district about Ambler.
Read more: http://www.stltoday.com/news/local/crime-and-courts/tennis-coach-and-substitute-teacher-faces-child-porn-charges/article_79144a8a-954d-11e1-a737-0019bb30f31a.html#ixzz1twubT1kv
'via Blog this'
---
http://www.kmov.com/home/Parkway-subsitute-teacher-indicted-on-child-porn-charges-150082995.html
ST. LOUIS (KMOV) -- A tennis coach from a North St. Louis County school, who was also a substitute teacher in the Parkway School District, has been federally indicted for possessing child pornography.
It's certainly easy to fear the worst in a case like this, but U.S. Attorney Richard Callahan says no local students were victims in the child pornography. He says more charges -- both federal and state -- are possible.
The federal indictment reads like a horror tale to parents: a teacher and coach admitting to sharing child pornography online for several years.
Federal agents say Richard Ambler, 49, told them that
he preferred boys 12 to 16 years old,
which is unsettling news for parents at Lutheran High School North where Ambler coached boys tennis.
"I'm totally shocked," Norman Holman said. "We had no idea. Nobody has heard anything about it. It's the first I've heard of it, so I'm just stunned."
So is the school. Ambler was in his second season with the tennis team when the school got a call from the FBI on Friday. Ambler was fired.
"He did go through all of our screenings that the Lutheran High School Association requires of all coaches, and he passed all of those," Association President Tim Hipenbecker said. "We have not had any issue in terms of that."
Promptly after our interview, the school started a mass phone call alert to parents.
Ambler was also a substitute teacher at middle and high schools in the Parkway district since 2009, but he's now lost that job too. Both districts say Ambler had passed full background checks, which makes sense because he hadn't been caught yet.
That allegedly happened in February and April when an undercover federal agent in Maryland said he found Ambler sharing child porn online. The agent said Ambler used the screen name "Shyboi1111" and admitted to owning more than 1,000 pictures and videos. Court records state that Ambler also admitted to exchanging nude photos with people claiming to be underage on Craigslist personal ads.
"At least parents can take some comfort in the fact that there's no evidence at this point that any students were victimized," Callahan said.
State charges could also surface. According to the affidavit, Ambler also admitted to attempting to molest an 11-year-old friend of his son during a sleep over at his Florissant home in 2008.
Callahan says federal agents seized Ambler's laptop and a hard drive, both of which are still undergoing forensic testing to scour for more images and evidence. The federal investigation is not over.